What started as a Boy Scout Camp in 1917 Is now an incredible Bergen County overnight campground.
Nestled on 800 acres in the Ramapo Valley County Reservation, Camp Glen Gray offers a multitude of outdoors activities.Whether you prefer to take a rowboat out on Lake Vreeland, or go hiking to enjoy the beautiful vistas, there is somethingspecial for everyone. Camp Glen Gray is an especially great choice for scouts and other youth groups due to its large-capacity cabin and tent options.
Visit the Camp Glen Gray website for more information: Camp Glen Gray
Amenities
Cabins/, Lean-tos, and Tents for up to 30 people
Lakeside Fire Ring (Additional fee, reservation required)
Row boat rental (in the summer)
Amphitheater that seats 200 people (additional fee, reservation required)
Open field for outdoors activities
Outdoor Chapel (no charge, reservation required)
Catch-and-release fishing on Lake Vreeland
Camp Glen Gray is open from 5pm Friday evenings to 11am Sunday mornings. Reservations are required.
Please note that all Camp Glen Gray facilities are only available to overnight campers. If interested in day trips, please visitthe other sites in the Ramapo Valley County Reservation.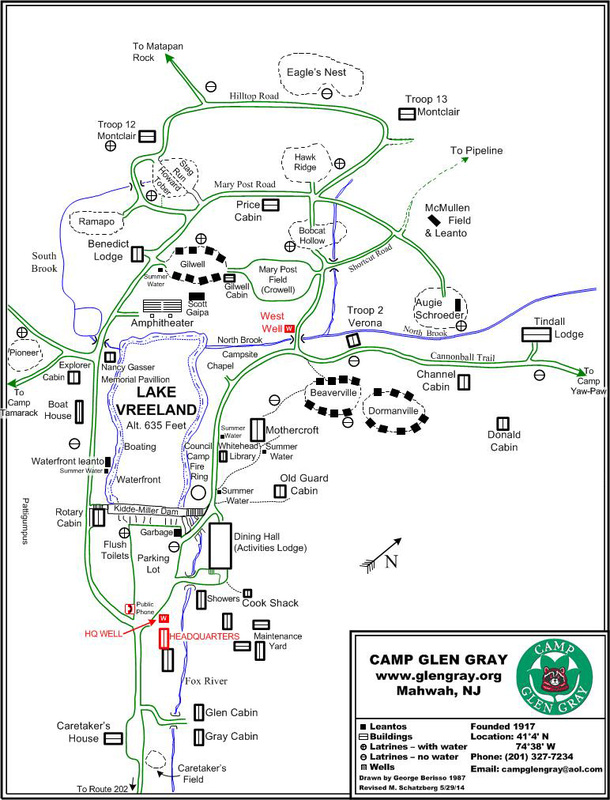 Camp Ma-Kee-Ya
Camp Ma-Kee-Ya is now located in Darlington County Park, which is conveniently situated at the foothills of the Ramapo Mountains featuring spacious lawns, wooded picnic areas, open pavilion, tennis, volleyball, basketball and handball courts.
For more information please visit this page
Bergen County Department of Parks
One Bergen County Plaza • 4th Floor • Hackensack, NJ 07601-7076
Phone: 201-336-7275