COVID-19 Information & Links
The New Jersey Department of Human Services has put out a comprehensive list of services available for those who may be struggling with healthcare, food access, mental health support, and other basic needs. A full list of services and resources can be found here.
---
Bergen County Addiction Recovery Program (ARP)
Unfortunately, the COVID-19 pandemic has had an increasingly negative impact on the numbers of deaths due to Opioid overdose. But the Bergen County Addiction Recovery Program (ARP) is ready to help and is fully operational during this crisis. It is operating remotely by continuing to offer the following free services to any Bergen County residents who need help:
* Evaluation and referral to appropriate level of treatment;
* Outpatient and Intensive Outpatient Programs; and
* Individual Substance Abuse Counseling.
Please call ARP Admissions and Information at 201-336-3316 if you or someone you care about needs help.
---

BERGEN COUNTY MARCH DRIVE-THRU COVID TESTING DATES
Partnership between the County of Bergen and Bergen New Bridge Medical Center offers drive-thru COVID-19 PCR testing at Bergen Community College
The County of Bergen in collaboration with Bergen New Bridge Medical Center announce March 2021 dates for drive-thru COVID-19 testing at Bergen Community College, 400 Paramus Rd, Paramus, N.J. The program will now offer COVID-19 Nasopharyngeal Diagnostic PCR tests providing results in 24-48 hours tests on the following days below for the month of March (Click here):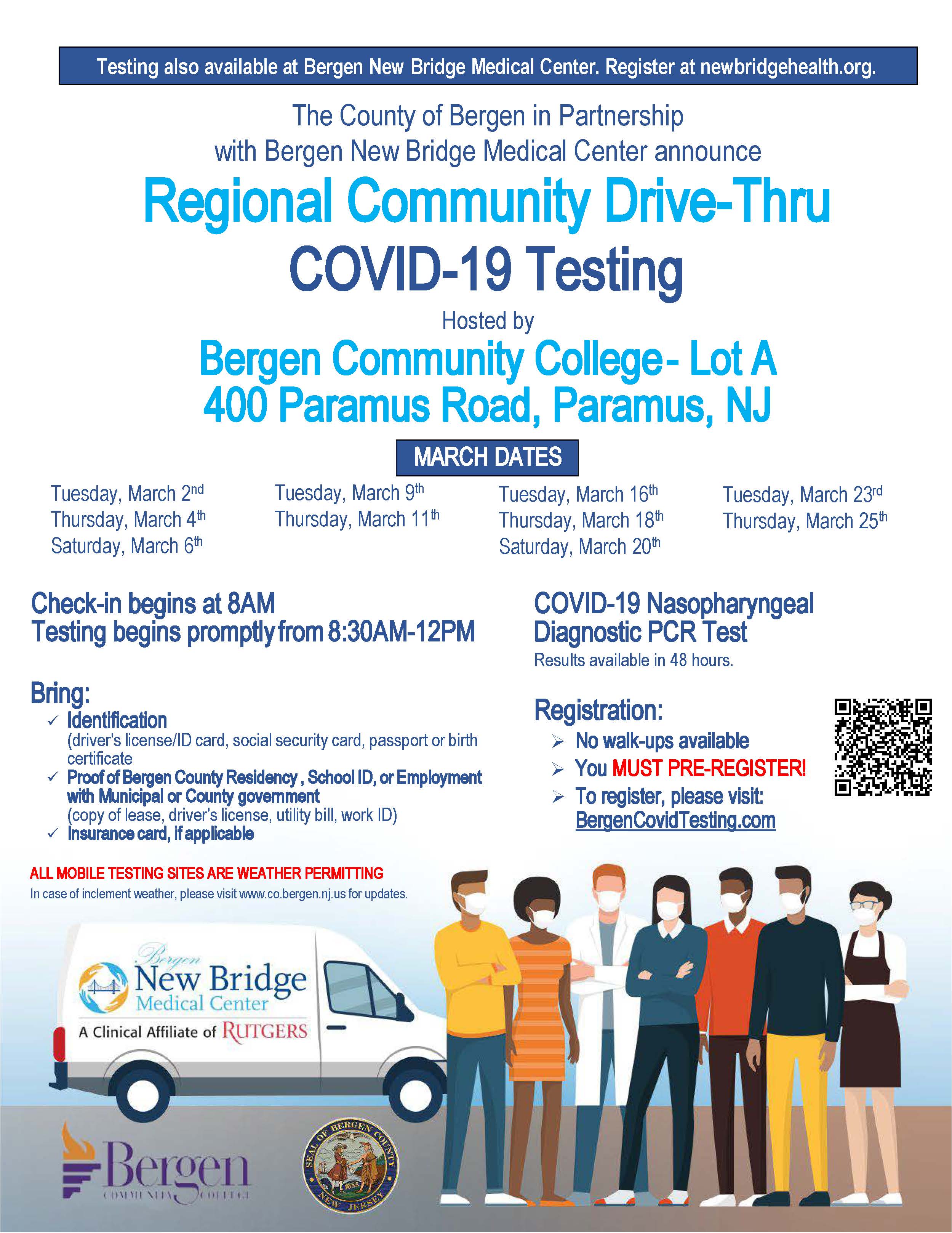 Testing is available to all county residents at no out-of-pocket cost, regardless of health insurance status. Residents must schedule their test through an online portal which can be reached at www.BergenCOVIDTesting.com. Please note residents must bring their mobile device for check-in. Identification is necessary so please bring ANY ONE OF THE FOLLOWING: your driver's license/ID card, social security card, passport, or birth certificate. If you have health insurance, please bring your identification card as well.
The County of Bergen and Bergen New Bridge Medical Center remind all residents that mobile testing is only one way to get tested. COVID-19 nasal, saliva, and antibody testing are also available by appointment at Bergen New Bridge Medical Center. To make an appointment please visit https://www.newbridgehealth.org/covid-19-testing/ for more information.
---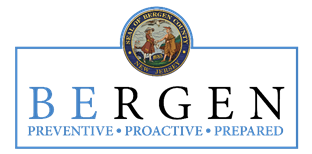 PPE DONATIONS NEEDED
"We make a living by what we get. We make a life by what we give.". ― Winston S. Churchill
During these difficult times, proper Personal Protective Equipment (PPE) is essential in protecting the lives of our healthcare workers and first responders, and saving the lives of our neighbors. Please consider donating supplies which are much needed on the front lines of our fight against COVID-19.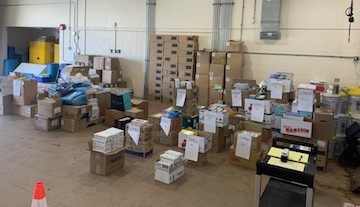 The County is accepting small and large donations alike! Details below:
Monday through Friday, 9AM to 2PM
Bergen County Annex Building
220 East Ridgewood Avenue, Paramus
(located behind Bergen New Bridge Medical Center, off of Pascack Road/Ridgewood Ave)
Businesses and residents can email PPEdonations@co.bergen.nj.us should there be any specific questions about PPE donations. Please consider helping our community, our frontline responders--our Bergen County family.