Coronavirus Disease 2019 (COVID-19)

COVID-19 VACCINATION INFORMATION
The New Jersey Department of Health is working with state, federal, and local agencies to plan for the fast and equitable distribution of a vaccine to all New Jersey communities. It is the goal of the State's Department of Health to make safe and effective COVID-19 vaccinations available to all who live, work, or are educated in New Jersey.
Booster Eligibility NEW!

If you had COVID-19...you still need a vaccination

[English]

If you had COVID-19...(brief version)

[English]
COVID-19 Vaccines and Fertility [English] UPDATED 11/29/2021
COVID-19 Vaccine: Information for You and Your Family [English] UPDATED 11/29/2021
Protect Your Family Now and for the Future [English] UPDATED 11/29/2021
Vaccine Facts on Safety & Development—Addressing Your Top Concerns [English] UPDATED 11/29/2021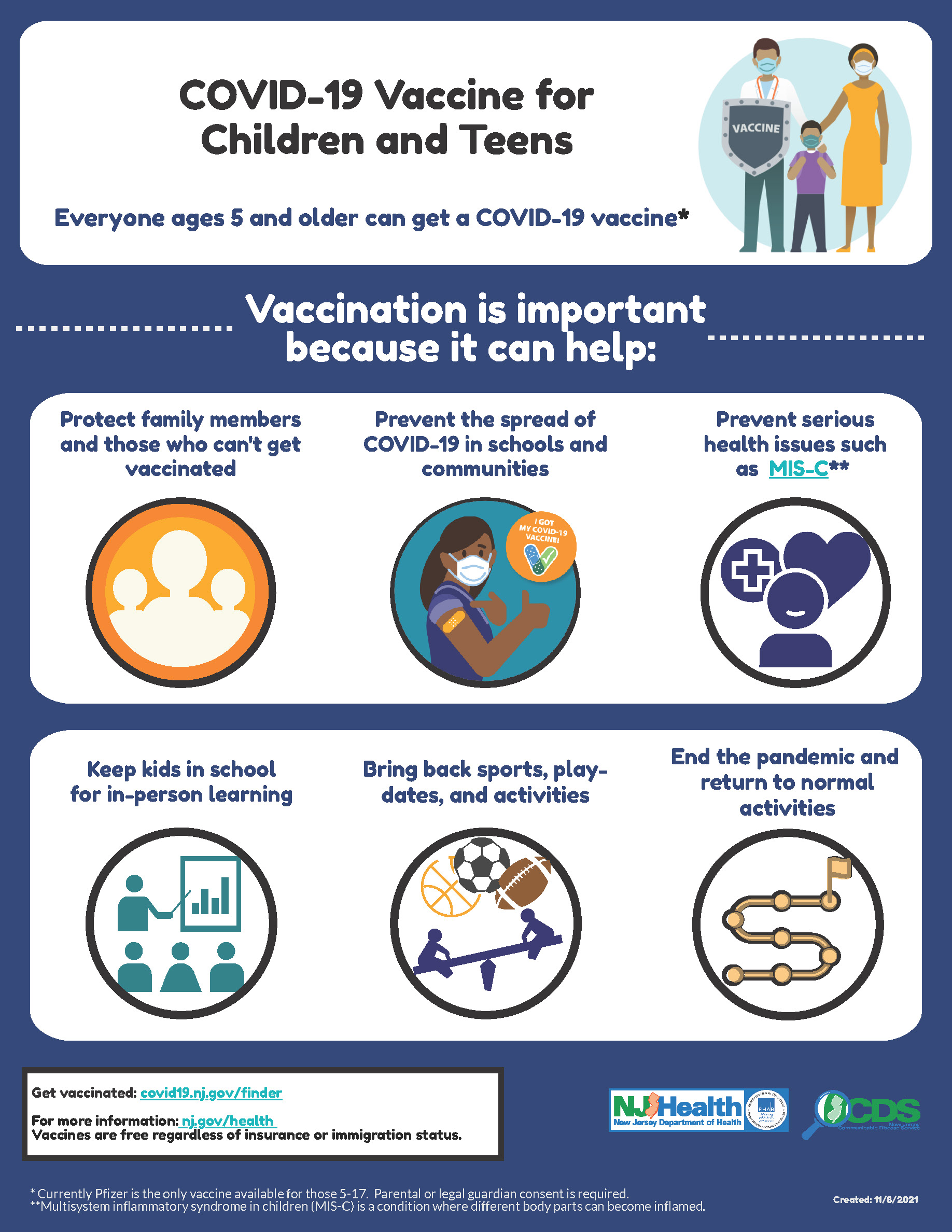 v-safe™ - After Vaccine Health Checker

Use your smartphone to tell CDC about any side effects after getting the COVID-19 vaccine. You'll also get reminders if you need a second vaccine dose.
Information about mobile testing at Bergen New Bridge Medical Center:
Have general questions about COVID-19?
The NJ Poison Control Center and 211 have partnered with the State to provide information to the public on COVID-19:
Bergen County COVID-19 Contact Tracing Line: 551-287-2295
Call (24/7):

1-800-962-1253

COVID-19 Questions
Call for medical information from healthcare professionals on symptoms, when to seek medical attention, and proper steps to take if exposed to COVID-19.
Call (BCDHS Health & Safety Hotline):

201-225-7000

(after hours and weekends:

201-785-8505

)
To recieve alerts, text:

NJCOVID

to

898-211
Visit the NJ COVID-19 Information Hub at covid19.nj.gov
Bergen County has confirmed cases of novel coronavirus (COVID-19), as seen in other parts of the world and U.S. The majority of these illnesses are mild, with fever and cough. A much smaller percentage of cases are severe, particularly in elderly people and people with underlying medical conditions. This is a quickly evolving situation and this site will be updated frequently.
Take Steps to Protect Yourself
Follow social distancing practices. This is especially important for people who are at higher risk of getting very sick
Wash hands often with soap and water. If not available, use a 60% alcohol hand sanitizer.
Avoid touching your eyes, nose, or mouth with unwashed hands
Avoid contact with people who are sick
Stay home while you are sick, except to get medical care. Learn what to do if you are sick.
Cover your mouth and nose with a tissue or sleeve when coughing or sneezing or use the inside of your elbow.
Cover your mouth and nose with a cloth face cover when around others who are not in your household.
Important Numbers
NJDOH Toll-Free Hotline: 1-800-222-1222 or 1-800-962-1253 if using out-of-state phone line
The New Jersey Department of Human Services a toll free warm line is activated during events that impact the mental health of New Jersey residents: 877-294-HELP (4357)
Bergen New Bridge Medical Center Telemed: 201-204-0712
Information for NJ State Employees (NJ Civil Service Commission) - https://www.nj.gov/csc/employees/covid.html
For questions regarding the County Executive's Executive Order contact - EOquestions@co.bergen.nj.us
For emotional support during the COVID-19 outbreak – 866-202-HELP (4357) or help@njmentalhealthcares.org
Get Involved
DONATE BERGEN COUNTY DRIVE-THRU PPE DONATION DRIVE at the Annex Building, 220 East Ridgewood Avenue, Paramus (located behind Bergen New Bridge Medical Center, off of Pascack Road/Ridgewood Ave)

For inquires: PPEdonations@co.bergen.nj.us • More Info

VOLUNTEER Opportunities for COVID-19 available, email bcvolunteer@co.bergen.nj.us or call 201-336-6006
REPORT price gouging! If you believe it is occurring contact the New Jersey Division of Consumer Affairs - 973-504-6240
WORK. To learn more about who is hiring in your community, visit the NJ COVID-19 JOBS AND HIRING PORTAL
Office of Health Promotion
healthpromotion@co.bergen.nj.us
---
Bergen County Department of Health Services
One Bergen County Plaza • 4th Floor • Hackensack, NJ 07601-7076
Phone: 201-634-2600 • Fax: 201-336-6086
Health & Safety Hotline: 201-225-7000