Cycling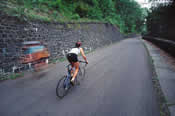 Cycling is permitted on Henry Hudson Drive from River Road in Edgewater up to and including Alpine Approach Road. Bicycles must have wheels of at least 24 inches and riders must be over 14 years old, wear helmets, and obey all traffic and park regulations. Bicycles are also allowed on Old Route 9W from U.S. Route 9W to State Line Lookout.
For more information please visit: www.njpalisades.org/cycling
Click to see article on 9W cycling
Saddle River Bikeway
Multi-use pathway/Bicycle-Pedestrian Path: This bike and pedestrian path travels from Ridgewood to Rochelle Park and is approximately 6 miles in length. This continuous path runs through Ridgewood, Glen Rock, Fair Lawn, Paramus, Saddle Brook and Rochelle Park and under Route 4. This path also follows the Saddle River and Ho-Ho-Kus Brook and passes by the Historic Easton Tower at Route 4. The path features a scenic waterfall at Dunkerhook Park, and there are three ponds, tree shaded picnic areas, pavilions, playgrounds, tennis courts and athletic fields accessible along the path.
Click to see Saddle River bike path map
Trails
Campgaw Mountain
201-327-7800
Campgaw Mountain Trail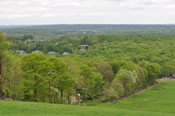 Campgaw offers a complex network of eight marked trails in a rather compact area; The flat trails at the base of Campgaw Mountain are ideal for those looking for a short, easy hike, and they can be combined with those that lead to the viewpoint at the summit of the mountain for a longer, more challenging hike. Individual trails range from 0.3 to 3.0 miles; nearly all are under a mile.
Camp Glen Gray
200 Midvale Mountain Road
Mahwah, NJ 07430
201-327-7234
www.glengray.org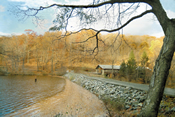 Miles of trails criss cross the camp. Trail markers will help you find them as you discover both the history and the beauty of the camp. Trails in camp range in difficulty from short hikes (2 miles) up to the Ten Mile Hike (10 miles).
Ramapo Mountain State Forest
Bergen & Passaic Counties
973-962-7031
www.state.nj.us/dep/parksandforests/parks/ramapo
Open daily sunrise to sunset
Directions: Take Route 287 to exit 57, follow Skyline Drive to parking lot on the left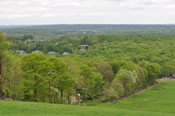 This hilly forest is a sanctuary for wildlife. Hikers and mountain bikers enjoy miles of challenging trails. Many trails offer a view of the New York City skyline. Birdwatchers are attracted to the forest for its ponds, streams and marshes that provide the perfect habitat for bird and other wildlife species. The forest borders the Ramapo Mountain Reservation, which is part of the Bergen County Park System.
Maps may be purchased in the Ringwood State Park office or through the New York-New Jersey Trail Conference.
View Ramapo Mountain State Forest on Google Maps
Palisades Interstate Park
201-768-1360
Trails are open year-round during daylight hours only
Click here to check current hours of operation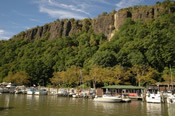 Two main trails each cover most of the approximately 13-mile length of the Park, here described south-to-north. Both have been designated National Recreation Trails:
Shore Trail - The Shore Trail begins just outside the Visitor Center at Fort Lee Historic Park, goes down the entrance road to the Historic Park and then follows Hudson Terrace south to the southern park entrance at the Edgewater–Fort Lee border.
Long Path - The Long Path follows the top of the cliffs from just outside the Visitor Center at Fort Lee Historic Park to the state line on U.S. Route 9W. (It then continues into New York State.) The trail covers easy to moderate terrain throughout.
Five bottom-to-top, east-to-west trails connect the Shore Trail and the Long Path:
Carpenter's Trail - Just south of the Ross Dock Picnic Area on the Shore Trail, about 0.5 mi. north of the southern trailhead of the Long Path. (Steep: elevation 250 ft.)
Dyckman Hill Trail - Parallels Dyckman Hill Road (continuation of Palisade Ave. from Englewood Cliffs) to the Englewood Picnic Area. (Moderate: elevation 300 ft.)
Huyler's Landing Trail - About 1.5 mi. south of the Alpine Picnic Area on the Shore Trail, about 0.5 mi. south of the Alpine Lookout on the Long Path. (Moderate: elevation 400 ft.)
Closter Dock Trail (Alpine Approach Trail) - Runs from just north of the Alpine Picnic Area to just south of Park Headquarters. (Moderate-steep: elevation 400 ft.)
Forest View Trail - Overlaps the Long Path for about 0.5 mi. at the summit of the cliffs, passing the Women's Federation Monument, then goes on to Boy Scout Camp Alpine. (Very steep: elevation 500 ft.)
Other trails:
The six cross-country ski trails at State Line Lookout, marked A–F, can also be used by hikers, and several unmarked trails are described in the hike descriptions.
See useful links below.
Teaneck Creek Conservancy
20 Puffin Way
Teaneck, NJ 07666
201-836-2403
www.teaneckcreek.org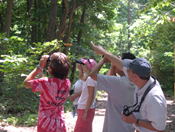 Experience Teaneck Creek Conservancy's 46-acre park. The grounds have over 2 miles of groomed trails for year-round walking, jogging, and nature observation. Choose from any one of three trail surfaces, stone dust (with barrier-free access from Fycke Lane), wood chip, or forested foot path. Each affords the opportunity to clear your mind
and restore your spirit.
Tenafly Nature Center
313 Hudson Ave
Tenafly, NJ 07670
201-568-6093
www.tenaflynaturecenter.org
Yellow Trail - A popular trail for families and individuals with small children. It is a 1/3 mile path that starts at the John A. Redfield Building by the Model Backyard Habitat and ends on the Main Trail near Pfister's Pond. You will find signs along the trail that correspond to the numbers in this guide. Enjoy your walk!
Richard W. DeKorte Park
2 De Korte Park Plz
Lyndhurst, NJ 07071
201-460-4667
www.njmeadowlands.gov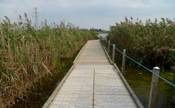 Marsh Discovery Trail - This Trail is a ½-mile long boardwalk through the brackish marsh with excellent views of the city skyline. It was the first handicapped accessible nature trail built in New Jersey. The trail connects a series of islands along the former Kingsland Creek and it is a great spot for bird watching. The tidal impoundment creates a unique habitat for nesting and migrant aquatic animals and birds. The Marsh Discovery Trail serves as an outdoor classroom, with wildlife observation blinds and class study docks. Interpretive signs are located throughout.
View Marsh Discover Trail on Google Maps
Transco Trail - This 1.2 mile trail connects the Marsh Discovery Trail with the Lyndhurst Nature Reserve, and features four seating areas along a service road that runs through the Kingsland Impoundment. With views of the tidal mudflats on both sides, it is an excellent trail to look for shorebirds and other wildlife.
Boating
Palisades Interstate Park
201-768-1360
www.njpalisades.org/boating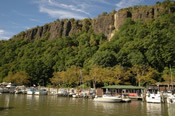 There are two boat basins in the NJ Section of the Palisades Interstate Park, Alpine Boat Basin, operated by the Park, and Englewood Boat Basin, operated independently.
These basins have a combined capacity of around 250 slips, and both have fuel docks and showers. Transient slips (when available) can be rented on a nightly basis during the season.
Meadowlands Tours
Pontoon Boat Tours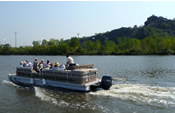 New Jersey Meadowlands Commission pontoon boats are a leisurely way to experience the Hackensack River. Warmer weather and longer days make the spring and summer a perfect time to join NJMC for a narrated evening cruise with the New York City skyline as a backdrop. Learn about shore birds, salt marshes, the Lenni Lenape Indians, pirates and history along the banks of the River.
Launching from the River Barge Park and Marina in Carlstadt, these two-hour evening tours are conducted by trained captains and hosted by NJMC staff, each with a unique story to tell about the Meadowlands.
Canoe Tours - The tours launch from the Mill Creek Point Park in Secaucus and Hudson County Park at Laurel Hill in Secaucus. They explore Mill Creek Marsh, the Sawmill Creek Wildlife Management Area, and more. Canoeing can be enjoyed by people of all ages. We supply all equipment and give you helpful tips before setting out on the water.
Click here to download a registration form and tour schedule.
Hackensack Riverkeeper, Inc.
201-968-0808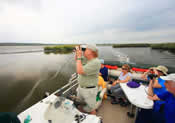 Eco-Cruises are fun, educational tours of the Hackensack River and the NJ Meadowlands aboard Hackensack Riverkeeper's specially-rigged pontoon boats, the Robert H. Boyle and the Edward Abbey. Captain Bill Sheehan started our Eco-Cruise program in 1994 to increase public awareness of the lower Hackensack River watershed as a vital natural and recreational resource. Since then more than 25,000 people have traveled with us. Eco-Cruises generally take between two and two and one-half hours and are fully narrated by a US Coast Guard-licensed Captain.
Camping
Campgaw Mountain Reservation
200 Campgaw Road
Mahwah, NJ 07430
201-372-3500
Campgaw Mountain Trail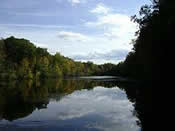 Campgaw Mountain Reservation offers unique opportunities such as archery, disc golf, skiing, snowboarding and snow tubing in a wooded setting. Hiking is available along the marked trails in this 1,373-acre wooded park. Campsites are also available at Campgaw. Visit Campgaw Mountain Reservations website for Camping regulations and Camper information.
Camp Glen Gray
200 Midvale Mountain Road
Mahwah, NJ 07430
201-327-7234
www.glengray.org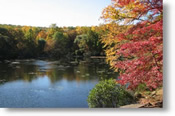 Camp Glen Gray is an overnight camping and hiking facility located on the border of Oakland and Mahwah. Nestled among thousand's of acres of county and state park lands, there's never a lack of things to do and see!
Dog Parks
Overpeck County Park Dog Run
Henry Hoebel Area
Fort Lee Road, Leonia
201-336-7275
Riverside County Park
Joseph Caricci Area
River Road, Lyndhurst
Separate area for both big and small dogs.
Samuel Nelkin County Park
Paterson Ave, Wallington
Separate area for both big and small dogs.
Westvale Park
235 Harrington Ave.
Westwood, NJ 07675
201-664-7882
Woodale County Park
Prospect Ave, Woodcliff Lake
Wild Duck Pond
East Ridgewood Ave, Ridgewood
Separate area for both big and small dogs.
Horseback Riding
Saddle Ridge Riding Center
900 Shadow Ridge Road
Franklin Lakes, NJ 07417
201-847-9999
www.saddleridgeridingcenter.com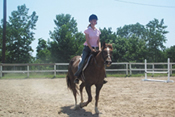 Saddle Ridge is set on 28 acres of mountains, fields and trails; staffed by a friendly, warm-hearted group of professionals. All of our programs provide a positive and comfortable, yet challenging lesson to improve the rider's and horses' abilities. The entire staff continuously strives to maintain and enhance the facility to provide our clients with services they come to expect.
Skiing
Campgaw Mountain

200 Campgaw Rd.
Mahwah, NJ 07430
201-327-7600
www.skicampgaw.com
As New Jersey's premiere learn to ski/snowboard and tubing destination, Campgaw Mountain offers an alpine escape right in your backyard. Located in northern Bergen County, we are the closest ski area to the New York metro area with 100% snowmaking capabilities. Only 18 miles north of the George Washington Bridge.
Campgaw provides skiing and snowboarding terrain for all abilities with short lift lines, un-crowded trails, and a friendly staff. You'll find the latest in rental equipment and the highest level of skiing or snowboarding instruction for all ages. Whether you are a beginner or an enthusiast, you'll love the skiing, snowboarding, and tubing at Campgaw Mountain.
Ice Skating
Fritz Dietl Ice Rink
639 Broadway
Westwood, NJ 07675
201-666-9883
www.fritzdietlicerink.com
Conveniently located in Westwood, New Jersey, this family owned and operated skating rink offers year round skating for all ages and abilities. It is both the birthplace and home of the North Jersey Figure Skating Club.
Ice House of New Jersey
111 Midtown Bridge Approach
Hackensack, NJ 07601
201-487-8444
www.icehousenj.com
The Ice House in Hackensack has four regulation size NHL rinks, and is the largest facility of its kind in the Tri-State area. Located just minutes from New York City, the Ice House is recognized as a world-class skating facility. Conveniently located on two levels with a full view of the rinks, we also offer a full service food court, party rooms, and meeting rooms. Ice House operates one of the largest full service hockey and skating Pro Shop in the New York-New Jersey area. Our expert hockey and skating staff can assist you by finding the right equipment to fit your specific level of competition needs
John T. Wright Arena at Mackay Park
130 W. Englewood Ave.
Englewood, NJ 07631
201-568-3133
The John T. Wright Arena at MacKay Park in Englewood is a seasonal rink open from Oct. 1 through March 31 of each year. Visitors to the rink can enjoy skating during public sessions or one of the other ice programs such as hockey clinics, skating school, open adult hockey leagues and birthday parties. The rink will no longer have a youth hockey program starting this year.
Birding
Bergen County Audubon Society
http://bergencountyaudubon.org
The Bergen County Audubon Society, shares a love of birds and a concern for the environment.
Their mission is to promote and protect wildlife in its natural habitat by providing opportunities for observation and conservation. Check out their website for programs and field trips.
Celery Farm Natural Farm Area
Franklin Turnpike, Allendale, NJ
Contact: The Fyke Nature Association
P.O. Box 141, Ramsey, NJ 07446
The Celery Farm is a 107-acre freshwater wetland in Allendale, New Jersey. Volunteers from Fyke are responsible for creating and maintaining the footpaths around the preserve, the three observation platforms and the nesting boxes. Over 240 species of birds have been recorded here, and more than 50 are known to breed here. The wetlands and deciduous woods provide habitat for many mammals, fish, reptiles and insects. Field trips offered throughout the year. Fyke Association monthly meetings held at the Allendale Borough Hall, 500 West Crescent Ave., Allendale, NJ