Apply Today!!
Bergen County homeowners seeking home improvements CLICK HERE to fill-out a Pre-Application Qualification form that you can submit online.
For Further Information call 201-336-6999 or Email GetHIP@co.bergen.nj.us
The Bergen County Home Improvement Program (HIP) is located at One Bergen County Plaza, 4th Floor, Hackensack, NJ 07601.
NJ Registered Home Improvement Contractors CLICK HERE to scroll to the bottom of the page for the Application.
It's Time to Get HIP!
The mission of the Bergen County Home Improvement Program (HIP) is to assist qualified low to moderate income Bergen County home and condominium owner occupants with an interest free, no monthly payment loan with improvements that upgrade the home, enhance the neighborhood, and help to maintain property values. Eligibility is based on income, financial status, family size, and the type of home improvements requested.
Loan Financing that's Interest Free with No Monthly Payments and No Fees!
Once an applicant is determined eligible, HIP will provide a no monthly payment, interest free loan for all approved home improvements. Currently, HIP provides loans of up to $17,500 for a one-family home and condominium interiors and up to $25,000 for a two-family home. There is absolutely no payment due until such time that the home is sold or the title is transferred. Importantly, too, there are no added fees at any point from the moment of approval to the time of payment.
Eligible Home Improvements
Heating
Plumbing
Electrical
Roof, Leaders, Gutters
Exterior Siding
Windows and Doors
Driveway, Sidewalk, Steps
Other Home Improvements
Home improvements to basements and attics (other than related to infrastructure, e.g., plumbing, heating, HVAC, etc.) are not permissible.
HIP Interest Free Policy Change as of January 1, 2018
As a result of legislative action taken by the Bergen County Board of Chosen Freeholders on December 20, 2017, HIP is now interest free with an effective date of January 1, 2018. This policy change is for all new loans and retroactive to include all existing HIP loans made prior to the effective date.
Home Improvement Resources for Bergen County Residents
CLICK THE FLYER BELOW for general information about HIP and other Bergen County organizations that can help with home improvements: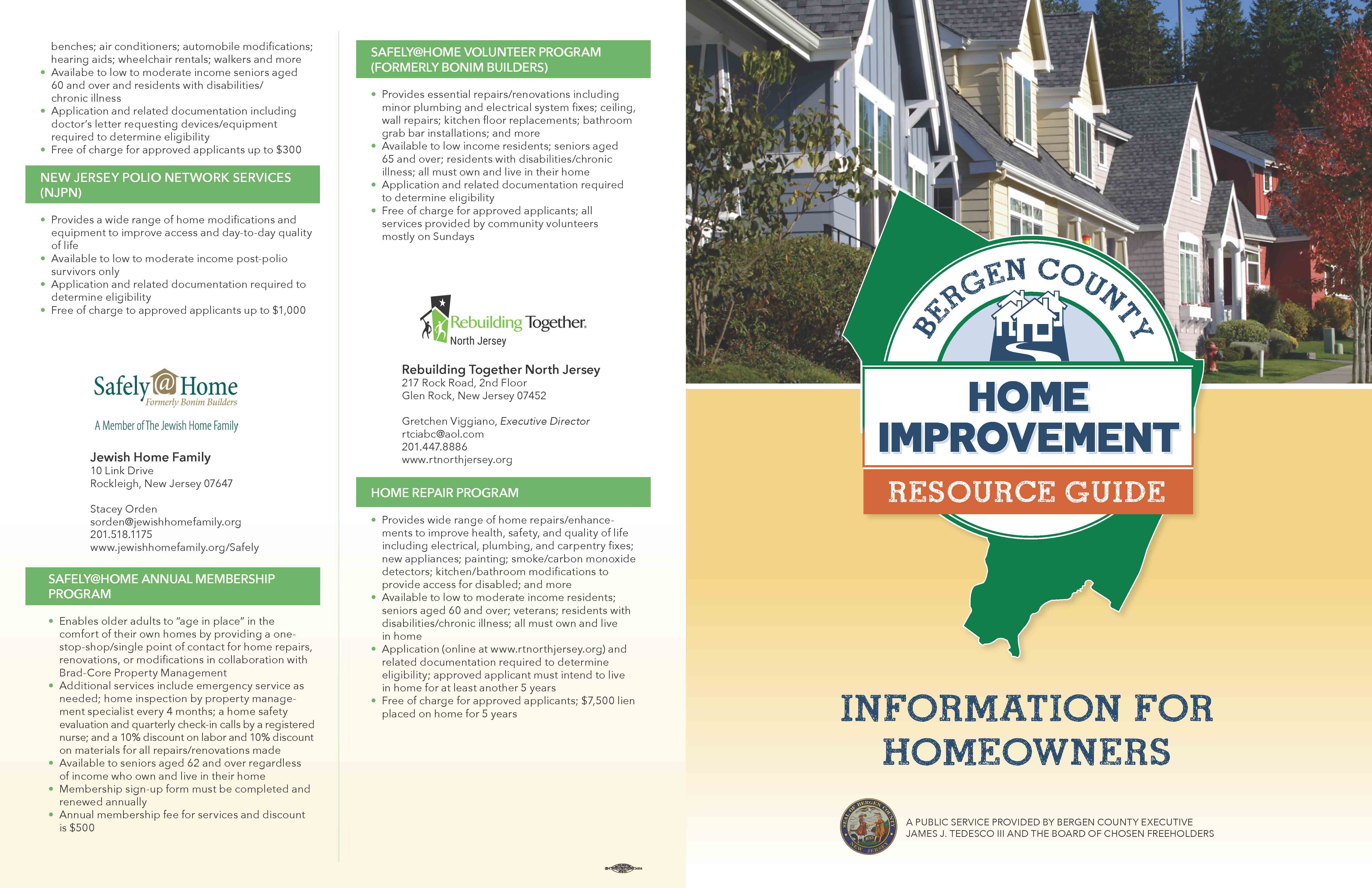 NJ Registered Home Improvement General Contractor Application
HIP is seeking experienced NJ Registered General Contractors to carry out rehabilitation of owner occupied single and two family homes and condominium interiors throughout Bergen County.
NJ Registered General Contractors are encouraged to apply including locally-based Home Improvement Contractors, Minority Business Enterprises, Women Business Enterprises, and Disadvantaged Business Enterprises.
CLICK THE LINKS BELOW for an instructions and an Application:
Application (please fill out the pre-application first)
Bermari Roig
HIP Client Services Representative
Bergen County Division of Community Development
One Bergen County Plaza • 4th Floor • Hackensack, NJ 07601
Phone: (201) 336-6999
---
Department of Administration and Finance
One Bergen County Plaza • 5th Floor • Hackensack, NJ 07601-7076
Phone: 201-336-7335 • Fax: 201-336-7304