For Immediate Release
March 15th, 2023
Contact: Lucine Beylerian, Director of Communications
Bergen County Board of Commissioners
E-mail:This email address is being protected from spambots. You need JavaScript enabled to view it.
RAFAEL MARTE SWORN IN AS BERGEN COUNTY COMMISSIONER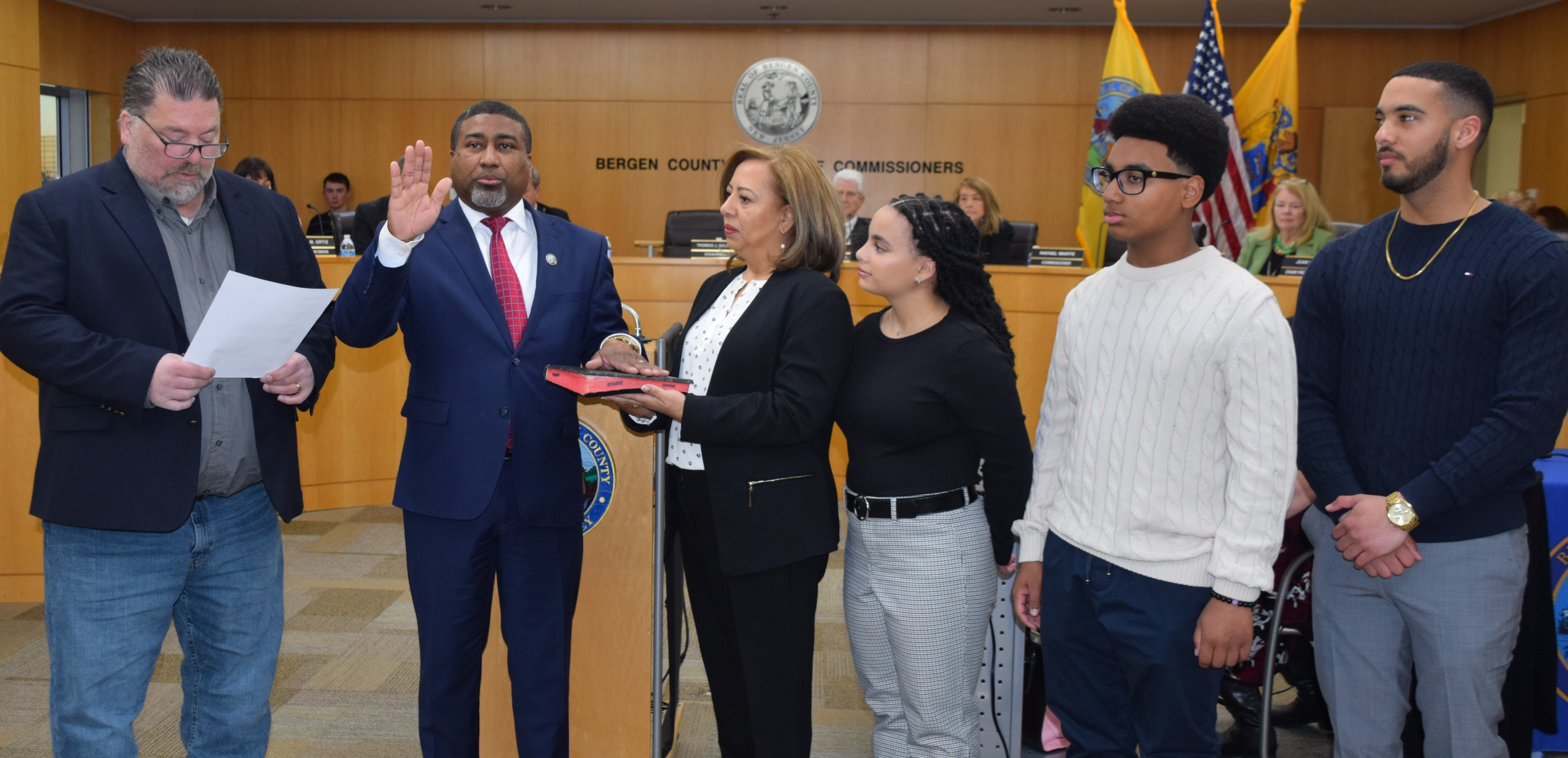 Commissioner Chairman Tom Sullivan administers the Oath of Office to Commissioner Marte, joined by his family.
(HACKENSACK, NJ)- The Bergen County Board of Commissioners have officially sworn in the newly appointed Commissioner Rafael Marte (D – Bergenfield) who was recently nominated at the Democratic Committee of Bergen County's Convention on March 9th. Commissioner Marte was sworn in by Commissioner Chairman Tom Sullivan.
"I am excited and honored to be part of a team that's so dedicated to making a difference in the lives of our nearly one million residents," said Commissioner Rafael Marte. "Together, we can accomplish great things and build an even stronger future for Bergen County families."
"We are thrilled to have Rafael join us on the Board of Commissioners," said Commissioner Chairman Tom Sullivan. "He brings us a fresh perspective and years of experience as a social worker and public servant. We look forward to utilizing his expertise and working together to advocate for the residents of Bergen County."
A proud Bergenfield resident of 28 years and former Councilman, Marte has a long history of public service in his career, including serving as a social worker for the Westchester Department of Social Services for nearly 30 years. Following his retirement in 2019, he founded the Dominican Cultural Association of New Jersey to promote and preserve Dominican culture.
"I had the pleasure of sitting down with Rafael earlier this week and am very excited to welcome him to the Board of Commissioners," said Bergen County Executive Jim Tedesco. "Commissioner Marte brings a wealth of knowledge, passion, and expertise to our governing body and I look forward to working together as we continue to put our residents first and move Bergen County forward."
Marte has been married to his wife Natalia for 30 years and is a proud father of four children, Andre, Daniel, Kaylee, and Lucas, as well as three granddaughters.
Marte was nominated to fill the vacancy that was opened earlier in March when former Commissioner Ramon Hache resigned from his position. Marte will seek to be elected for a full term in the November election.
###