FOR IMMEDIATE RELEASE:
September 30, 2022
PRESS CONTACT:
Derek Sands
This email address is being protected from spambots. You need JavaScript enabled to view it.
BERGEN COUNTY HOSTS FREE PGA HOPE GOLF CLINIC FOR VETERANS
PGA selects Bergen County course to host free golf clinic for veterans
HACKENSACK, N.J. – Bergen County Executive Jim Tedesco, the Board of County Commissioners, and the Bergen County Parks Department announce that Soldier Hill County Golf Course has been selected as a host for the Veteran Golf Clinic PGA HOPE. All Bergen County veterans are invited to enjoy free PGA professional golf instruction every Thursday through October 27, 12pm–1:30pm at Soldier Hill Golf Course (99 Palisade Ave., Emerson, NJ). Additionally, following each instructional session, participants have the opportunity to take their game on to the course to play nine holes for free.
PGA HOPE (Helping Our Patriots Everywhere) is a 6-8 week golf program led by trained PGA Professionals. Its purpose is to introduce golf to Veterans as a means to enhance their physical, mental, social, and emotional well-being. This is the first year the County of Bergen has been chosen by PGA Hope to host this clinic.
"It is an honor to be chosen to host the PGA HOPE Veterans Clinic at Soldier Hill County Golf Course," said Bergen County Executive Jim Tedesco. "It is our privilege to express our gratitude and appreciation towards those who have served our nation in this way. We are grateful to provide our veterans with this opportunity to experience all of the mental, physical, and emotional benefits of golf."
"We look forward to our veterans utilizing this well-deserved opportunity for recreation," said Commissioner Steve Tanelli. "Our veterans have scarified so much for our country, and this is just one of the many ways that we can give back to show our appreciation."
To enjoy this opportunity, veterans must be residents of Bergen County and produce identification indicating their veteran status. For more information, or to register, visit the NJ Golf Foundation's website at https://www.njgolffoundation.org/military.
For more information about Bergen County Golf, visit www.GolfBergenCounty.com.
Bergen County has six golf courses which include Darlington Golf Course in Mahwah, Orchard Hills Golf Course in Paramus, Overpeck Golf Course in Teaneck, Rockleigh Golf Course in Rockleigh, Soldier Hill Golf Course in Emerson, and Valley Brook Golf Course in River Vale. Bergen County Golf is dedicated to providing an enjoyable golf experience through well-maintained golf courses, reasonably paced rounds, and friendly customer service.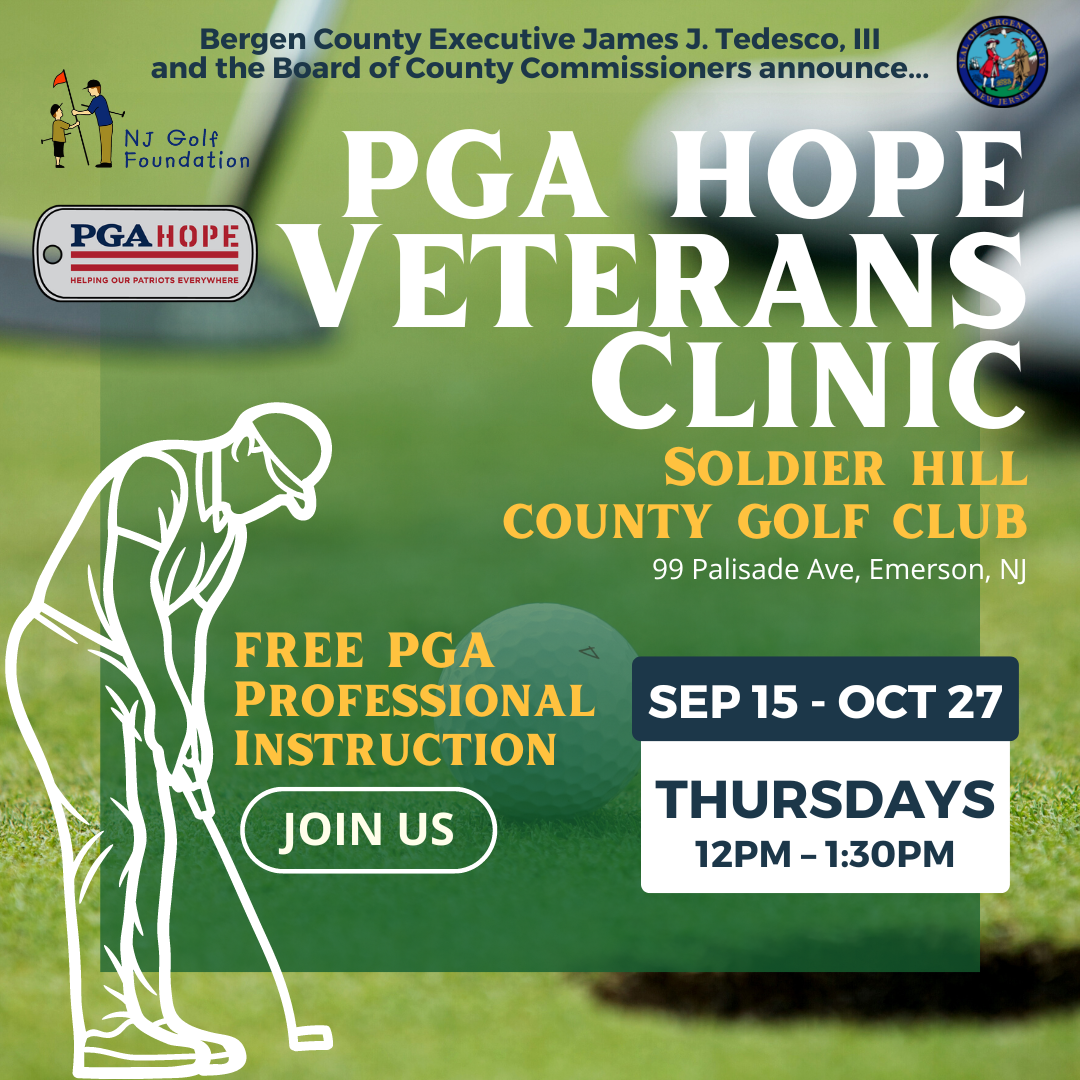 ###