FOR IMMEDIATE RELEASE:
August 16, 2022
MEDIA CONTACT:
Derek Sands
This email address is being protected from spambots. You need JavaScript enabled to view it.
FREE "MUSIC AT THE BARN" SERIES CONTINUES
The Spiros Exaras Greek Ensemble will perform on Sunday, Aug. 28
at the Wortendyke Barn Historic Site, Park Ridge
Park Ridge, N.J. – Bergen County Executive James Tedesco, III and the Bergen County Board of Commissioners invite the public to attend a free music concert featuring The Spiros Exaras Greek Ensemble on Sunday, August 28, from 4pm-6:30pm (rain or shine) at the Wortendyke Barn Museum, a County Historic Site at 13 Pascack Rd, Park Ridge, NJ. This is the second concert in the music series.
Limited seating is available. Attendees are welcome to bring chairs and/or blankets for viewing, as well as food.
Spiros Exaras is an internationally acclaimed musician and graduate of the Athens Conservatory of Music with degrees in classical guitar and composition. He is regarded as a master of fusing musical cultures. In his native Greece, Spiros has been a featured player with the Greek National Radio Television Orchestra (ERT). Internationally, he has played with such artists as Shirley Bassey, Randy Brecker, Ray Vega, and Grammy Award-winners Dave Valentin, Gerardo Velez, and Arturo O'Farrill. Exaras also played the searing guitar solo on Mariah Carey's platinum hit, "My All". Spiros' film and theater scoring includes Everything For a Reason, Niko's Restaurant, Just Cause, the plays "Gallathea" and "The Hand And Hen", and numerous commercials.
The Spiros Exaras Greek Ensemble will consist of: Spiros Exaras, guitar/Musical Director; Chris Papson, bouzouki and vocals; Megan Gould, violin and baglama; Angelos Papadatos, upright bass. For information about the performers, please visit www.spirosexaras.com.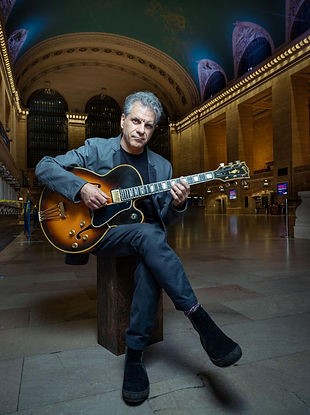 The free outdoor music series will continue with the following:
Sunday, September 25, 4pm-6pm: Sharp Edge (Rock and Roll)
Sunday, October 30, 1pm-3pm: 12th Annual Bluegrass & Cider with The Cider Barn Band
For concert info, please call 201-336-7292 or email This email address is being protected from spambots. You need JavaScript enabled to view it..
The Wortendyke Barn has been a Pascack Valley landmark since its construction on 500 acres of land bought by the Wortendyke family in 1735. It was used continually as a barn into the 20th century and is one of only six pure Dutch barn types in Bergen County. In 1997, the barn opened as a museum with agriculture exhibits that include 18th and 19th century farm implements and tools, and the history of the Wortendyke family farm.
###