FOR IMMEDIATE RELEASE:
April 19, 2022
CONTACT:
Michael Pagan
201.336.6972
Bergen County Caregiver Conference Planned for April 30
Learn about Available Services and Programs in Bergen County
HACKENSACK, NJ -- Bergen County Executive Jim Tedesco and the Bergen County Board of Commissioners will present the Bergen County Department of Human Services-Division of Senior Service/ADRC's Annual Spring Caregivers Conference on Saturday, April 30, 2020 from 10 a.m. to 2 p.m. at One Bergen County Plaza. Admission to the conference is free but advanced registration is encouraged.
10am – 10:30am Registration, Networking, Exhibitors
10:30am – 10:45am Welcome and Introductions Lorraine Joewono, DSS Director
Opening Remarks Jim Tedesco, Bergen County Executive
10:45am – 11:15am Early, Middle & Late Stage Alzheimer's Disease Kenneth Zaentz, CFRE, President & CEO; Alzheimer's New Jersey
11:15am – 12:15pm Legal Considerations for Caregivers Marize Helmy, The Manna Helmy Law Group, Ridgewood
12:45pm – 1:15 pm Being an Advocate During Discharge Marie A. Cueman, PhD, RN, Professor School of Nursing, Felician University
1:15 pm – 1:45 pm Self-Care for the Caregiver Mary-Catherine Lundquist, COPSA, Institute for Alzheimer's Disease and Related Disorders, Rutgers University Behavioral Health Care
In between the sessions, attendees will also be able to visit exhibitor tables to get information about Medicaid, Medicare and other services and support available to residents through the Bergen County Divisions of Senior Services and Disability Services.
There are an estimated 100,000 caregivers in Bergen County, caring for loved ones of all ages with chronic illnesses or disabilities. Family, friends or neighbors may care for an aging parent, a sibling with mental illness or a child or spouse with a disability. Caregivers may care for their loved one full-time, part-time or long distance.
"Caregiving can be an all-consuming, isolating experience, but it doesn't have to be," said Bergen County Executive Tedesco. "The Caregiver Conference is an opportunity for caregivers to network, share tips and stories, and learn about the latest developments in the field from experts from the Division of Senior Services' Advisory Council Education Committee, Felician University Institute of Gerontology and the Caregiver Coalition of Bergen County who can supply them with the resources and guidance they need as they navigate through the process of caring for loved ones."
"Seniors and those with disabilities depend on their caregivers to assist and improve their quality of life," said Commissioner Germaine Ortiz. "It's only right to do everything in our power to make their lives a little easier. This conference will do exactly that by providing an opportunity for the caregivers to receive all the information, guidance, and resources they need to provide the quality care needed by their loved ones."
For more information and to register contact Bergen County Division of Senior Services at 201-336-7427.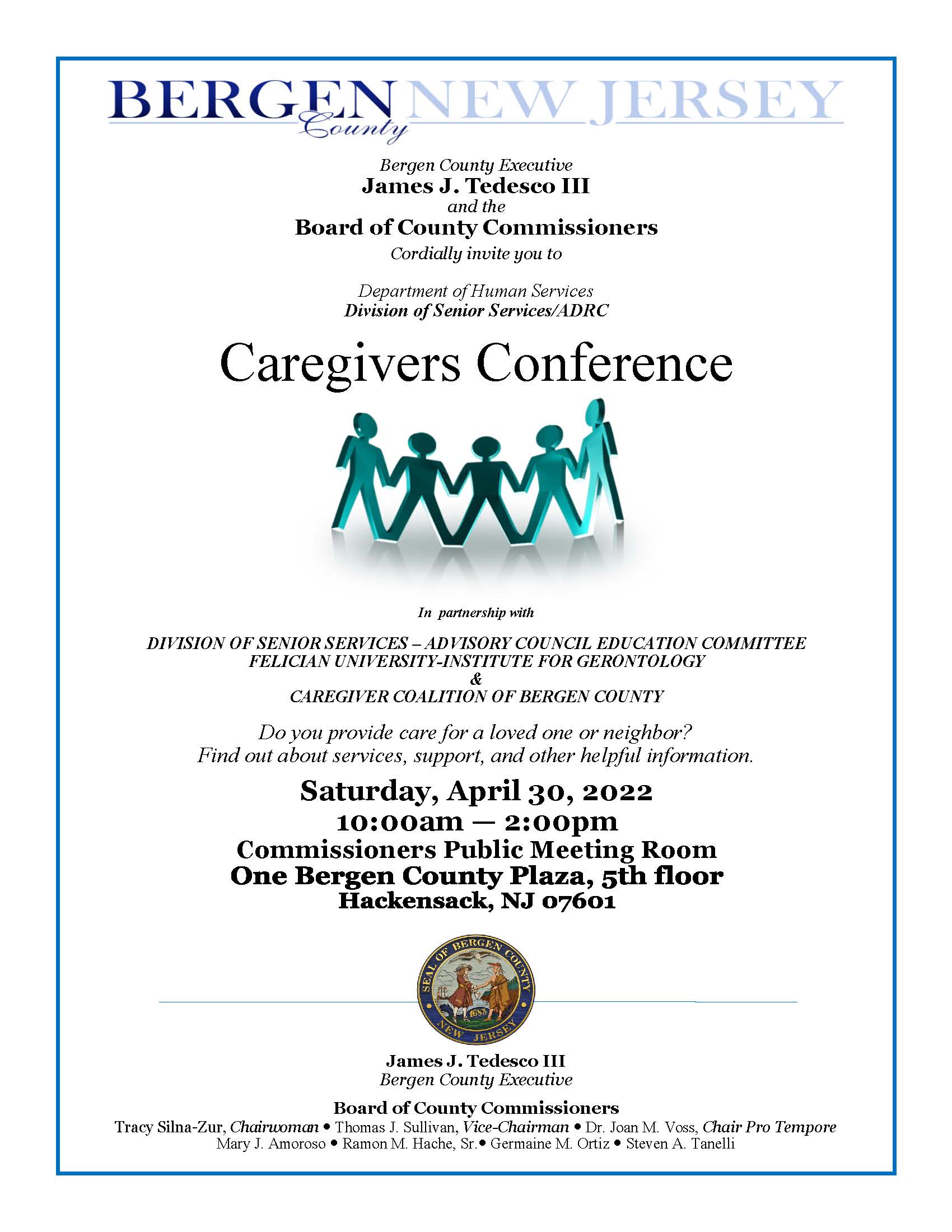 ###