For Immediate Release:
10.23.18
Contact:
David Behrend
(973) 369-8423
This email address is being protected from spambots. You need JavaScript enabled to view it.
Rutherford Joins State Campaign To Raise Awareness About Pedestrian Safety
Street Smart NJ targets speed, distractedness and safety awareness for drivers and pedestrians ahead of Halloween
The Borough of Rutherford kicked off a month-long Street Smart NJ campaign on Monday, October 22, to raise awareness of pedestrian safety ahead of Halloween, when thousands of children will take to the streets to trick-or-treat.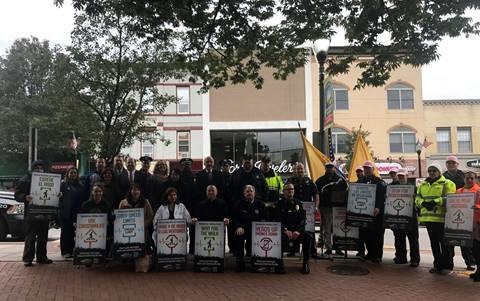 The campaign is a collaborative effort between Borough officials, EZ Ride Transportation Management Association and the North Jersey Transportation Planning Authority (NJTPA), which coordinates the Street Smart NJ program. Local police will be enforcing pedestrian-related laws in Rutherford and working with Borough officials and the school district to educate everyone about safe driving and walking practices.
"These are common sense, easy to follow laws," Police Chief John R. Russo said. "Drivers need to obey speed limits and stop for pedestrians in crosswalks. We need people out walking to use crosswalks or cross at intersections when there aren't painted crosswalks. And everyone should avoid distractions."
EZ Ride is partnering with Rutherford police to present safety talks to students at Lincoln Elementary School, St. Mary's High School and Felician College. The campaign comes during Walk to School Month and just in time to remind people to be extra cautious when driving and walking on Halloween.
"We're excited to participate in the Street Smart NJ campaign to help raise awareness about pedestrian safety throughout our community," Borough Administrator Robert Kakoleski said. "Halloween is next week and it's important for drivers to be extra vigilant and watch for children who are out trick-or-treating."
The Police Department will have crossing guards and officers stationed in the business district on Halloween to make sure the Borough's youngest residents have a happy and safe day.
Bergen County Executive James Tedesco III, who sits on the NJTPA's Board of Trustees, said Street Smart is a common sense campaign that can make a difference.
"On our heavily travelled roads, improving safety can be a great challenge," he said. "But if we follow the campaign's simple safety reminders — stopping for pedestrians, using crosswalks, putting down the phone and obeying traffic laws — we can save lives and prevent crashes."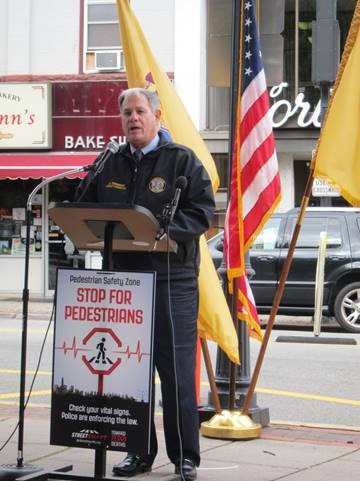 New Jersey ranked 17th in the nation in pedestrian fatalities in 2016, according to the National Highway Traffic Safety Administration. The federal government has designated New Jersey a "focus" state – placing an extra emphasis on aiding the state in combating its higher-than-average pedestrian fatality rate and providing funding for this campaign.
During the duration of the campaign street signs, posters, tip cards and other educational materials will be on display throughout the community. Several local businesses are supporting the campaign through coupons, which Rutherford police will be handing out to pedestrians who walk safely as part of a positive enforcement initiative. Participating businesses include Da Mario Pizzeria, the Rutherford Dairy Queen, Boom Boom Chicken, Ara Coffee and Bagel Supreme.
Pedestrian safety is an ongoing challenge in New Jersey. In 2017, 184 pedestrians died as a result of pedestrian-vehicle crashes, according to the most recent data available from the New Jersey State Police. From 2013 through 2017, 825 pedestrians were killed on New Jersey's roads (NJSP). During that time, more than 22,000 people were injured. This translates into one death every 2 days and 12 injuries daily.
Pedestrians accounted for 27 percent of people killed in vehicle crashes in New Jersey in 2016, while the national pedestrian fatality rate for that year is 16 percent (NHTSA).
There were 64 motor vehicle crashes involving pedestrians in Rutherford from 2013-2017, according to Numetric, the New Jersey Division of Highway Traffic Safety's crash data analysis tool. These crashes resulted in four incapacitating injuries and 19 moderate injuries.
More than 80 communities have participated in Street Smart NJ since the campaign's inception in 2013, and the campaigns have had a positive impact. An analysis of campaigns conducted by the NJTPA in 2016 found a 40 percent reduction in drivers failing to stop for pedestrians and a 28 percent reduction in pedestrians crossing mid-block or against the signal.
"This campaign is about changing behaviors and saving lives and we've seen some great successes," said NJTPA Executive Director Mary Ameen. "Working together on these campaigns we can make a difference and help reduce pedestrian fatalities and injuries in our state."
To learn more about the initiative, visit bestreetsmartnj.org. The campaign is also on Facebook (StreetSmartNJ) and Twitter (@njstreetsmart).