For Immediate Release
October 11, 2018
Contact
Donnalee Corrieri
Vice President, Marketing and Public Relations
New Bridge Medical Center
Phone: 201.225.7141
E-mail:
This email address is being protected from spambots. You need JavaScript enabled to view it.
New Bridge Medical Center Proclaimed Stigma-Free at Rededication Ceremony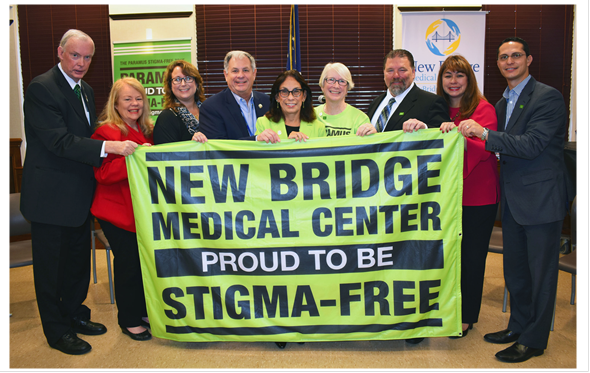 John Cosgrove, New Bridge Foundation Chairman; Freeholder Mary Amoroso; Freeholder Tracy Zur; James J. Tedesco, III, Bergen County Executive; Deborah Visconi, President and CEO, New Bridge Medical Center; Mary Ann Uzzi, Care Plus Bergen Trustee; Freeholder Thomas Sullivan; Freeholder Germaine Ortiz; Senator Joseph Lagana
(Paramus, NJ) – New Bridge Medical Center (NBMC) was honored with a proclamation from Bergen County Executive James J. Tedesco, III, at The Medical Center's Stigma-Free Rededication Ceremony. The Medical Center was the first hospital in New Jersey to be declared Stigma- Free in support of the County-wide Stigma-Free initiative started in Paramus, New Jersey by Mary Ann Uzzi, who is now a board member for the Medical Center's managing body, Care Plus, Bergen, Inc. Yesterday's ceremony acknowledged the ongoing commitment to the initiative under the current management and new facility name.
New Bridge Medical Center Stigma Free
"New Bridge Medical Center is committed to providing quality, compassionate, and inclusive care in a stigma free environment. Today we rededicate ourselves to this mission and support of the Stigma-Free initiative," said Deborah Visconi, President and CEO of New Bridge Medical Center, "As healthcare leaders, we know the most important step toward managing any illness is seeking treatment. We recognize a major barrier in accessing the care that truly makes a difference is often the fear of judgement, or feelings of shame, embarrassment, or guilt. Mental illness to us is no different than any other illness and we are dedicated to creating a safe environment where consumers can comfortably receive the quality care they need," added Visconi.
"I have been a strong advocate for the Stigma-Free initiative because there is no shame in having mental illness or seeking mental health treatment," said Bergen County Executive Jim Tedesco. "I applaud the ongoing commitment by the team at New Bridge Medical to the Stigma-Free Initiative. New Jersey's largest hospital has cultivated a compassionate community where both patients and staff know that they can seek help without judgment."
"All of us at New Bridge Medical Center are honored to work with the Stigma-Free initiative, proud that our County Executive has been steadfast in his support of the endeavor from its onset and thankful to Mary Ann Uzzi and all those who work tirelessly as mental health advocates around our County," said Visconi. "Today we will fly our flag but every day our doors and hearts are open to care for those who need us the most."
About New Bridge Medical Center
New Bridge Medical Center, a clinical affiliate of Rutgers, is a 1,070 bed hospital located at 230 East Ridgewood Avenue in Paramus, NJ. Founded in 1916 to treat patients with contagious diseases, the medical center is both the largest hospital and licensed nursing home in New Jersey and the fourth-largest publicly-owned hospital in the nation.
New Bridge Medical Center, a non-for-profit safety net facility, provides high-quality comprehensive and inclusive services including acute and ambulatory care, long term care, substance abuse treatment and behavioral health care to the greater Bergen County community. The Medical Center, including its Long Term Care Division, is fully accredited by the Joint Commission. Additionally, with 323 beds, New Bridge Medical Center is one of the largest medical facilities providing a continuum of care for the behavioral health community.
New Bridge Medical Center offers acute medical services, including: 24/7 emergency department; surgical suites; physical rehabilitation; pharmacy; laboratory; radiologic services (including digital mammography) and more than 26 medical specialties available through its Ambulatory Care Center. The Medical Center is a Veterans Choice Provider proudly serving the healthcare needs of veterans.