For Immediate Release:
October 2, 2018
New Bridge Medical Center Acknowledged at One Year Anniversary Ceremony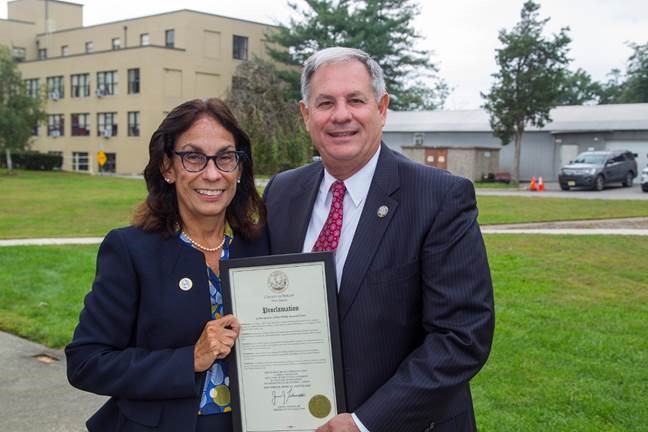 Deborah Visconi, President and CEO, New Bridge Medical Center with James J. Tedesco, III, Bergen County Executive
(Paramus, NJ) – New Bridge Medical Center (NBMC) was honored with a proclamation from Bergen County Executive James J. Tedesco, III, at a ceremony acknowledging the one year anniversary and achievements of the Medical Center on October 1, 2018.

One year ago, the County announced the Medical Center's new name, New Bridge Medical Center, which is part of New Bridge Health, a health care system uniting services across the continuum of care. Care Plus Bergen, Inc., an innovative alliance between three world-class partners – Rutgers New Jersey Medical School, Integrity House, and Care Plus NJ Inc., is the non for profit operator managing New Bridge Medical Center and over the past 12 months has focused on strengthening the hospital's core services of behavioral health, addiction treatment, long-term care, and acute care, while increasing access to care for all Bergen County residents.

"We have increased support to critical areas throughout the Medical Center, become a preferred Veterans Choice Provider proudly serving our veterans, seen new physicians from Rutgers New Jersey Medical School join our Ambulatory Care Center, expanded consumer access through new relationships with commercial insurance care, made aesthetic improvements to the facilities, opened up the lines of communication to staff and all stakeholders, and truly invested in engagement, transparency, and inclusivity," said Deborah D. Visconi, President and CEO of New Bridge Medical Center. "With support from our County Executive, we accomplished IS modernization," added Visconi. "As a direct result, NBMC became the first Trusted Data Sharing Organization to route healthcare data to the New Jersey Health Information Network, a shared services platform created by NJDOH and powered by NJII that provides the infrastructure for electronic exchange of patient health information among healthcare providers, HIE organizations, and state health data sources."

As the ceremony concluded, County Executive Tedesco declared October 1, 2018 as New Bridge Medical Center Day in honor of the facility's achievements. "In the year since New Jersey's largest hospital became New Bridge Medical Center, we've seen it strengthen its core services while also expanding access to care for veterans and others in need. The staff and leadership of Bergen County's public hospital are transforming healthcare in here and across northern New Jersey and I look forward to seeing how their work continues to help this facility grow and thrive in the months and years to come," said Tedesco.

About New Bridge Medical Center
New Bridge Medical Center, a clinical affiliate of Rutgers Biomedical and Health Sciences, is a 1,070 bed hospital located at 230 East Ridgewood Avenue in Paramus, NJ. Founded in 1916 to treat patients with contagious diseases, the medical center is both the largest hospital and licensed nursing home in New Jersey and the fourth-largest publicly-owned hospital in the nation.
New Bridge Medical Center, a non-for-profit safety net facility, provides high-quality comprehensive services including long-term care, behavioral health care and acute care to the greater Bergen County community. The medical center, including its Long-Term Care Division, is fully accredited by the Joint Commission. Additionally, with 323 beds, New Bridge Medical Center is one of the largest medical facilities providing a continuum of care for the behavioral health community.
New Bridge Medical Center offers acute medical services, including: 24/7 emergency department; surgical suites; physical rehabilitation; pharmacy; laboratory; radiologic services (including digital mammography) and more than 20 medical specialties available through its Ambulatory Care Center. The Medical Center is a Veterans Choice Provider proudly serving the healthcare needs of veterans.