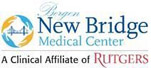 May 4, 2020-For Immediate Release
Contact: Donnalee Corrieri,
Bergen New Bridge Vice President, Marketing and Public Relations
Phone: 201.225.7141 E-mail: This email address is being protected from spambots. You need JavaScript enabled to view it.
Bergen New Bridge Medical Center Expands COVID-19 Saliva Testing to Include Asymptomatic Bergen County Residents
Physician telehealth evaluations and testing are by appointment only Monday – Friday via www.newbridgehealth.org
(Paramus, N.J.) Effective Tuesday, May 5, 2020, exhibiting symptoms is no longer a prerequisite to receive a COVID-19 test at the County of Bergen's testing site at Bergen New Bridge Medical Center. However, the highest priority for testing will be given to health care workers and workers in congregate living settings, and symptomatic first responders, as well as to asymptomatic NJ residents who have been in close contact with someone else who has tested positive.
All testing requires a physician, nurse practitioner, or physician assistant order and are only accepted from the Bergen New Bridge Medical Centers Telehealth Network. The Bergen New Bridge location is the only Bergen County testing site that uses the Rutgers developed saliva test. Screening and telehealth appointments are still required and can be arranged from the asymptomatic screening survey found at https://www.newbridgehealth.org/bergen-covid19-screening/.
The Medical Center also offers COVID-19 antibody testing. All tests ordered exclusively through the Medical Center's telehealth network via www.newbridgehealth.org.
# # #
ABOUT BERGEN NEW BRIDGE MEDICAL CENTER
Bergen New Bridge Medical Center (BNBMC), a clinical affiliate of Rutgers, is a 1,070-bed hospital located at 230 East Ridgewood Avenue in Paramus, NJ. The Medical Center is both the largest hospital and licensed nursing home in NJ and the fourth-largest publicly-owned hospital in the nation.
Bergen New Bridge Medical Center, a not-for-profit safety net facility, provides high-quality comprehensive services, including acute and ambulatory care from Rutgers New Jersey Medical School and community physicians, mental health and substance use disorder treatment, and long-term care to the greater Bergen County community. The Medical Center, including its Long-Term Care Division, is fully accredited by The Joint Commission and is in network with all major New Jersey commercial insurance plans covering 99.89% of NJ residents.
Bergen New Bridge Medical Center is a full-service hospital with a 24/7 emergency department, surgical suites, physical rehabilitation, pharmacy, laboratory, radiologic services (including digital mammography), and more than 26 medical specialties available through its Ambulatory Care Center. The Medical Center is a Veterans Community Care Provider proudly serving the healthcare needs of veterans and is a Leader in LGBTQ Healthcare Equality in the Human Rights Campaign (HRC) Healthcare Equality Index (HEI) for 2019. Learn more at www.newbridgehealth.org.